Discover How

Softwashing
Cleans Better &

Lasts Longer
Than Traditional Pressure
Washing

Without the
Chance of Damaging
your Windows, Siding,
and Painted Surfaces.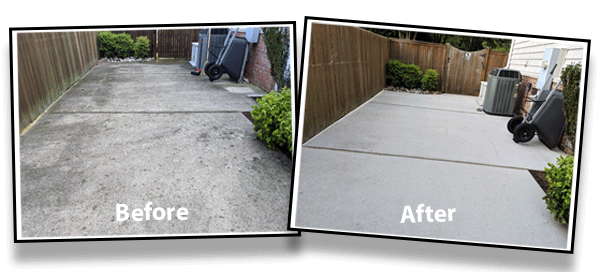 Click Here for a Free Quote for Pressure Washing, Soft Washing, Roof Cleaning, Gutter Cleaning, & Window Cleaning in Chesapeake, Virginia Beach, and Southside Hampton Roads.
Text Estimate to 757-750-0400 for a quick, virtual quote!
"Super professional and he did a amazing job on my house! Looks better than the day I moved in!"
-Louis B. via facebook
"Great experience, Great price, on time, nice honest guy.... did a awesome job on my house will definitely use again!!"
-Vince M. via facebook
See more reviews from our customers who made Sudsy a top rated pressure washing & roof cleaning company in Chesapeake & Virginia Beach.
Why is Softwashing Better for Your Home?
While 4000+ PSI will certainly clean away dirt, it can leave behind damaging consequences. Our softwash process uses a force similar to your garden hose, so you don't have to worry about broken window gaskets, striped siding, broken siding, or paint damage.
That green mildew that grows on the house is similar to a weed. It has a root and a stem. When you blast it off the surface it leaves the root. Just like a weed, if you don't get the root, it will grow back quick. Softwashing uses special detergents that will kill the mildew and lift dirt off the surface for a more thorough and longer lasting clean.
No Water Behind the Siding
Our houses have lots of openings that allow it to breathe. High pressure washing pushes water into these areas and behind the siding where it has a hard time escaping and can cause mold growth. High PSI washing has also been know to get into electrical areas and cause lights, outlets, and door bells to stop working.
Our cleaning detergents lift away deep seated dirt and gently rinse it away. Your white trim will pop and the house will shine!
AND...
You Get All These Free Extras!
Free Exterior Inspection and Report ($50 Value)

Free Electrical Masking ($39 Value)

Free Patio/Porch Furniture Moving ($45 Value)

No Missed Work Days - We work while you're at work ($150+ Value)

Free Front Door Hand Cleaning ($19 Value)

30 Day Missed Spot Guarantee (Shouldn't everyone warranty their work?)
Total

Minimum

Savings Value
$303.00+
The pressure washing company never showed up to my Chesapeake home. It was the third time
that I was stood up. I didn't really have time to tackle this project but I didn't have time to waste waiting
for no one to show up, again. So off to Home Depot for me. A few hundred dollars for a machine and
I was back home. 9.5 hours later I was soaking wet, tired, and certain to never pick up a pressure washing
wand again. Boy was I wrong.
​
That was a few years ago and believe it or not all that green stuff grew back on the side of my house.
One morning I woke up and called in sick. I was fed up with my job and decided I'd rather be home that
day pressure washing than sitting at my desk. So I wheeled the pressure washer out and prepared for
10 more hours of sore muscles and wet clothing. But the machine wouldn't start. I changed the plugs and
the oil and eventually got it started. Success! Then water started shooting everywhere. The pump had
split. If you aren't aware, the pump is the expensive part on a pressure washer. So basically my $400+
pressure washer was toast and I had cleaned the house a grand total of one time.
​
So I'm out a days pay and now needed a new pressure washer. Even if it cost me $600, it would've been cheaper to hire someone, but no one seemed to be reliable. I decided to research it a little bit and see if I could find a good deal on a new machine. Instead of a good deal, I found a new career.
​
That day I stumbled upon soft washing. I ended up spending the whole day researching the specialized equipment and the detergents. Discovered how it cleaned more thoroughly than high pressure and minimized the chance of damage. I learned that the equipment available at the home improvement store was the equivalent to me trying to cook steak with a lighter. And I already knew that Chesapeake, Virginia Beach, and Hampton Roads needed a reliable house washing company.
​
And here we are. I invested in the equipment and perfected the detergent formula that cleans thoroughly and smells great. I quit the job that made me unhappy and now wash a bunch of houses. It's so satisfying to see the instant results of our work and how happy it makes our clients.
​
Hopefully, we get the opportunity to show you. - Mickey Ferrell
Mickey Ferrell Owner/Operator of Sudsy House Washing and his son Trey, who helps on many jobs.
Our Exterior Cleaning Services
Offered in Chesapeake, Virginia Beach, and Hampton Roads.
Sudsy offers pressure washing in Chesapeake, Virginia Beach, and Hampton Roads for durable surfaces such as brick and concrete.
Those black streaks on your roof are bad news. We use a gentle cleaning approach
for roof cleaning in Chesapeake, Virginia Beach, & Hampton Roads.
We will bring your deck back to life with our deck cleaning service. We clean, restore, seal, and stain.
​
​
Our Work
Examples of our pressure washing, soft washing, and roof cleaning services in Chesapeake, Virginia Beach, and Hampton Roads.
What does pressure washing and soft washing

cost?
Here's a quick video discussing how we price pressure washing, soft washing, and roof cleaning.
While there is no "single price", we promise a fair quote that gives you the best service in our area. All cleaning services are backed up by our satisfaction guarantee, where you only pay when you are happy.
​
Get your free pressure washing estimate by clicking below.